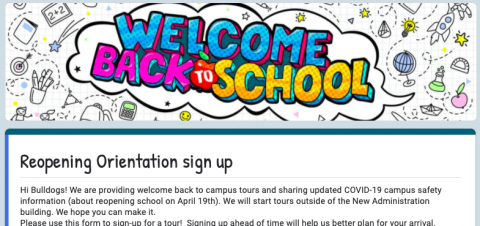 Hi Bulldogs! We are providing welcome back-to-campus tours and sharing updated COVID-19 campus safety information (about reopening school on April 19th). We will start tours outside of the New Administration building. We hope you can make it. 
Please use this form to sign-up for a tour!  Signing up ahead of time will help us better plan for your arrival.  Remember to wear your mask!! 
¡Hola Bulldogs! Damos la bienvenida con recorridos por el campus y compartimos información actualizada sobre la seguridad del campus de COVID-19 (sobre la reapertura de la escuela el 19 de abril). Comenzaremos los recorridos fuera del edificio de la nuevo edificio de Administración. Esperamos que puedas hacerlo. 
Utilice esta forma para inscribirse en un recorrido!  Registrarse con anticipacion nos ayudara a planificar mejor su llegada.  Recuerde usar tu mascara!